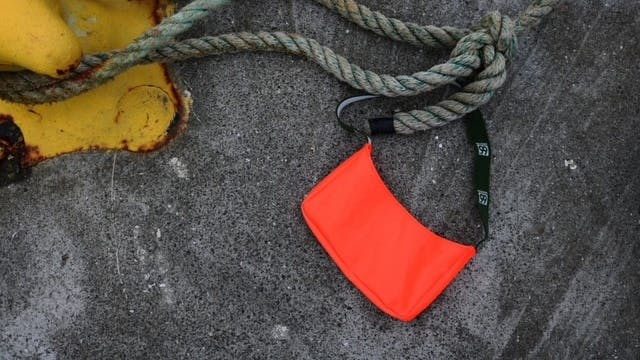 TABIK
Start-up designers are sewing one-of-a-kind bags from retired 66° North commercial fishing rain gear.
Five young women from Verzlunarskóli Íslands (The Commercial College of Iceland) are making the most of a plentiful and unused resource here in Iceland—old 66° North commercial foul weather gear. 66° North has produced rugged jackets, smocks, and bibs since 1926. For generations, its foul weather gear has helped Icelanders fish the cold and unforgiving North Atlantic waters and certainly kept many of them alive. 
What started as a school project—eventually winning an entrepreneurial company of Verzlunarskóli Íslands 2021 award—turned into a successful side venture and sales at 66° North retail stores. Tinna Ingimarsdóttir, Auður Eyþórsdóttir, Brynja Hjartardóttir, Ingunn Óskarsdóttir, and Katrín Bárðardóttir are all students at Verzlunarskóli. Collectively they established a design company called TABIK—devised from the first letter from each of their names. 
TABIK's focus is designing and producing products made from upcycled and locally sourced materials in the most environmentally friendly way possible. TABIK researched the marketplace on what they could make and the best materials to make it. It was a challenge to find the suitable materials to inspire a product idea. The conclusion was to sew a shoulder bag that is practical, long-lasting, and fashionable. It turns out there is plenty of old 66° North commercial fishing foul weather gear that is no longer seaworthy but still long-lasting. In particular, the 66° North fishing sea pants were chosen for their build quality and waterproofness, making them ideal for a durable bag. TABIK sourced an ample supply of disused 66° North pants at Brim, one of Iceland's largest fishing companies, which generously provided the used gear. In fact, TABIK was able to detail the source of their materials down to the fishermen who worked on three vessels: Akurey, Viðey, and Helgi María, owned by Brim.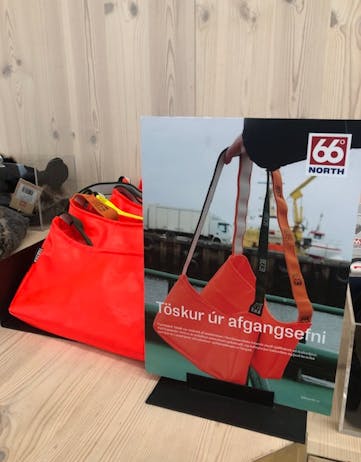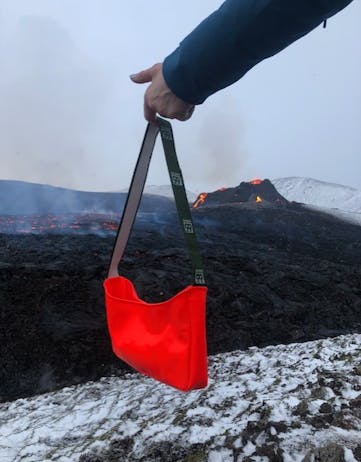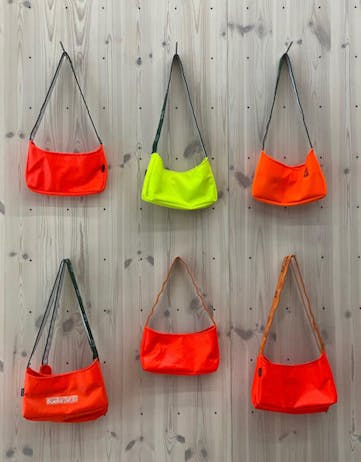 Once TABIK has the pants, one of the most challenging aspects is to clean these well-worn items. What they cannot clean gives each bag some "character." A single bag is cut from individual pants, making them unique. Buckles are added, and the straps for the bag are repurposed from the pants' suspenders. TABIK named their bag Heimaey, after the largest island in the Westman Islands archipelago, because of the strong connection these pants have with fishing in the area. 
"Renewal and sustainability are essential because we want to treat our planet with respect and leave it in good condition. The fast-fashion we see comes with an enormous resource impact in our modern consumer society. Unfortunately, a considerable amount of materials and clothing is wasted. We need to do our part to protect the environment." TABIK.
66° North was very impressed with TABIK's efforts to upcycle one of its iconic products. The company agreed to sell the bags at one of the company's most popular retail stores on Laugavegur in downtown Reykjavík. TABIK plans to continue their production of the Heimaey bag as long as there is interest. TABIK wants to inspire people to consider our consumer patterns and look closely at reusing and repurposing whenever possible to reduce the environmental impact of goods.
To order your own Heimaey bag, send a message to TABIK through Instagram or Facebook.