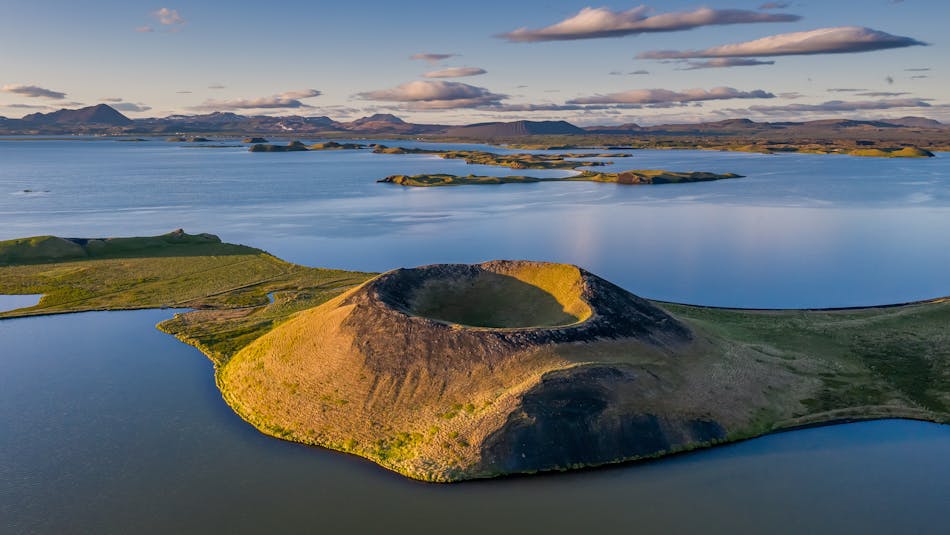 ICELAND: CARBON-NEUTRAL BY 2040  
Iceland has a goal: Carbon-neutrality by 2040. 
To create a sustainable future and achieve the United Nations Sustainable Development Goals, we must limit global warming relative to pre-industrial levels. This is a global undertaking with global consequences where we must work together across borders. Iceland plans to lead by example and has set the ambitious goal of carbon-neutrality by 2040.
Iceland undoubtedly has an advantage. It has already phased out fossil fuels in both electricity production and house-heating, proving that a transition to renewable energy is feasible. The population has experienced first-hand the benefits of more affordable domestically sourced energy, cleaner air, and better living standards. Iceland is now ready to embark on the next steps towards a carbon-neutral society.
The effects of climate change can be seen and experienced around Iceland. The sight is perhaps most staggering when viewing receding glaciers today in contrast to their historical expanse in photographs. Some glaciers have already lost their status and are merely dead ice now. Acidification of the oceans is also of personal and financial importance to Icelanders. The country depends on—and takes great pride in— managing of its thriving fisheries sector to maintain the valuable exports.
Iceland certainly faces challenges to become carbon neutral by 2040. These include transitioning to a carbon-free transportation system, implementing more efficient waste-management practices, scaling up sustainable agricultural practices, and boosting local carbon removal efforts. Progress on these fronts will create a genuinely sustainable, climate-friendly, and circular economy in Iceland.
Iceland has put forward an ambitious climate action plan in order to meet the requirements of the Paris Agreement that will result in carbon neutrality by 2040.
Our vision for a carbon-neutral future in 2040
A progressive, carbon-conscious society in Iceland by 2040.
A visitor to Iceland in 2040 will experience a truly sustainable way of life. First off, no fossil fuels will be part of your journey once you set foot on Icelandic soil. Iceland has relied exclusively on renewable energy for electricity production and district heating for decades, and the next energy-transition will be in the transportation sector. Continuous strides will build on Iceland's expertise when meeting the challenge of going carbon neutral.
Industry
Icelandic industry runs on renewable energy in 2020; this will still be true in 2040.
Transport
All domestic transport in Iceland will run on locally produced alternative fuels.
Fishing
The fishing sector will be powered by alternative fuels and meet its goal of a 100% yield.
Food
Consumers will have full traceability of their meal, a carbon cost label, and carbon offset information directly from food suppliers, both in shops and restaurants.
Trees & Wetlands
By planting more trees and preserving wetlands, Iceland will provide more sanctuary for migrating and local bird species while reducing land-use carbon emissions and ensuring biodiversity.
R&D
Global companies will look to Iceland as the perfect test market to make use of local resources such as geothermal energy, clean water, and clean electricity. The Carbfix project will be significantly scaled up to decrease emissions from heavy industry worldwide.
Industry in 2040
Energy-dependent industries in Iceland have been using electricity generated from renewable resources in their production processes for decades.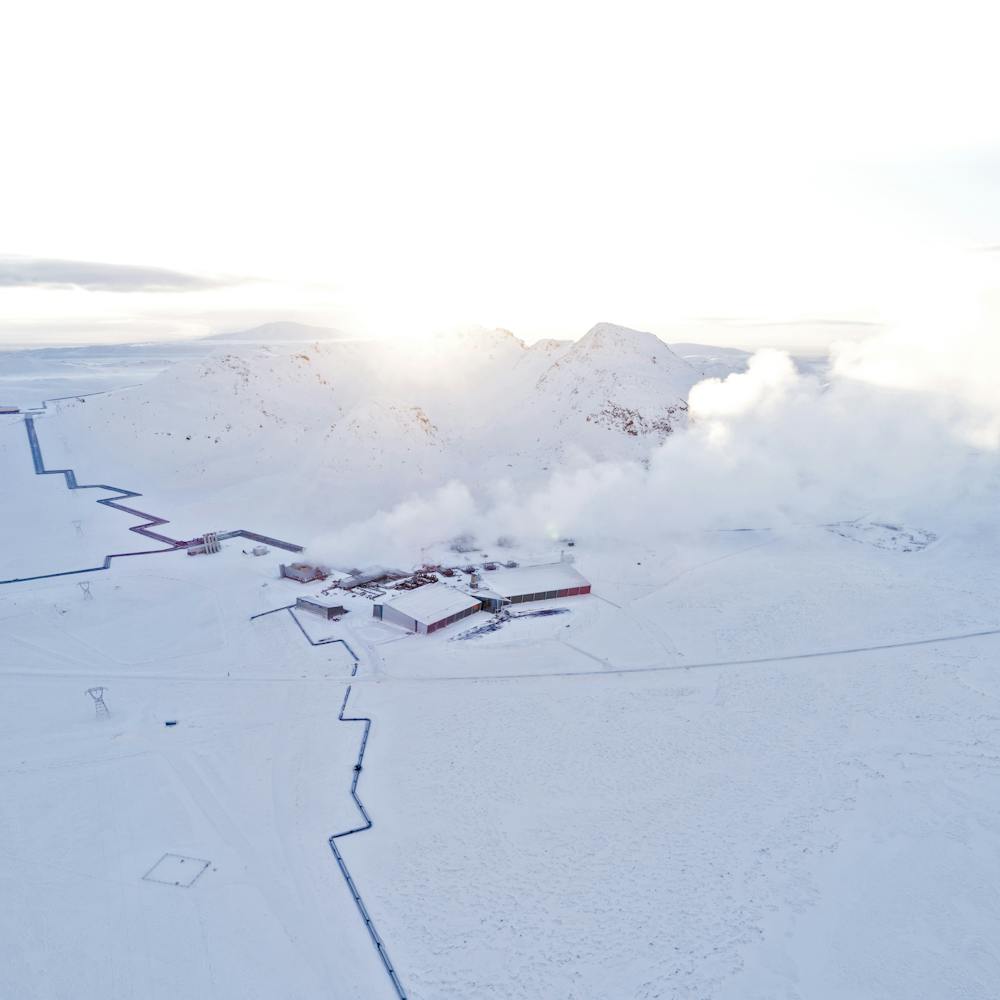 Energy-dependent industries are embedded in many strategic value chains and make up more than half of EU industry's consumption. These industries produce the goods and materials that enable dramatic emissions reductions in other sectors of the economy, including transport, construction, and power generation. These industries answer to the EU ETS (European Union Emissions Trading System) directive and are obligated to reduce their emissions substantially to be carbon-neutral. These are the goods produced by the green energy generated from falling water and geothermal heat into some of Iceland's most valuable exports.
Additionally, Icelanders are spearheading R&D efforts within industry to reduce emissions further by constantly developing methods for long-term carbon capture and storage.
Transport in 2040
Perhaps no other sector will transform as much as transport. Fossil fuels will be phased out, especially after 2030, when the government will ban the import of such vehicles.
Local transport will have converted entirely to renewable or circular options with the electrification of most privately owned vehicles. Public transportation will be widely used, with the Bus Rapid Transport system Borgarlínan in place. There will also be a sweeping change from personal vehicle ownership to a ride-sharing structure. For larger vehicles and heavy machinery, a mix of locally produced alternative fuels such as hydrogen and methane will power industrial demands. All buses and coaches will run on locally generated clean energy. Domestic air travel will be electrified, making use of the clean energy infrastructure already installed in Iceland. Businesses will provide electric vehicles, bikes, and scooters for their employees to share as needed. The result will be a cleaner, safer, and more extensive transport network.
Fishing in 2040
Future Icelandic fishing vessels will transition from fossil fuels to locally produced clean energy. Efficiency will increase, and carbon emissions will decrease, making Iceland's premium fish the top choice for conscious consumers.
By implementing a circular economy model, the fishing sector will meet its goal of a 100% yield. There will be no such thing as fishing waste!
Icelandic companies already possess the technology to share with consumers exactly where a fish was caught, processed, logistics data, and even the boat captain!
Consumers are now more aware than ever of their products. By 2040, the entire supply chain will be green and transparent, showing consumers how the whole fish was used. The fishing fleet will connect to clean electricity in the harbor as it does in 2020. Land-based fish farming that is more productive, efficient, and ecologically sensitive will expand tremendously to meet the growing demands for protein. One can only imagine the spinoff attractions that Icelandic entrepreneurs will develop in this new reality.
Food in 2040
With vast geothermal potential and know-how, Iceland is ready to scale-up its greenhouse production.
Locally produced tomatoes, bananas, strawberries, coffee beans, and flowers are just a few of the products already grown. Iceland has the potential to be self-sufficient in the industrial-scale production of organic, pesticide-free fruit and vegetables for its population and visitors. Icelandic lamb, a locally raised free-range staple, will be produced even more sustainably, with higher yields, and in harmony with nature.
Icelandic farmers are already planning for the certification of the entire agricultural sector as carbon neutral by 2040.
Alongside the price of goods, Icelandic food producers will include a carbon footprint labeling. For example, restaurants will list their menu items with details of the carbon emissions and how they offset those emissions to attain carbon neutrality. All Icelandic food products will include full traceability with verifiable sustainability data down to the fjord or farm!
Land Use, Trees & Wetlands in 2040
Iceland has a landscape that is vast, wild, and sparsely populated of both trees and people. Change is inevitable on the way towards carbon neutrality. Active reforestation efforts will plant more trees throughout the country that will directly capture carbon.
Well managed forests will offer animals and birds refuge and people a place of recreation. A better understanding of the critical role wetlands play in sequestering carbon is developing rapidly. Those not used for agriculture will be reclaimed and further protected to decrease land-use emissions substantially. By protecting wetlands and sponsoring reforestation efforts, Iceland will provide even more habitat for migrating birds. The survival of some species will depend on these endeavors, and Iceland will be increasingly popular amongst birdwatchers.
R&D in 2040
For decades Iceland has been a leader in the direct and integrated use of geothermal resources. By 2040 there will be more circular park models where companies worldwide will work collaboratively to create new solutions for a sustainable future.
They will use the various value streams on-site such as geothermal energy, clean electricity, and water. Icelandic industries will seek to balance both services and products that are carbon neutral. Icelandic products will be synonymous with quality, purity, and a premier choice for climate-conscious consumers. As companies worldwide become more environmentally aware, they will look to Iceland as the perfect test market for sustainable solutions.
At the established Energy Resource Park and Geothermal Park, alternative fuels, algae for food, and nutritional supplements have already resulted from cooperation. Carbfix continues to refine its technology that converts CO2 to rock, with the potential to remove vast quantities of carbon dioxide from the environment safely and permanently. These solutions have firmly established Iceland as a role model and a key player in sustainability.