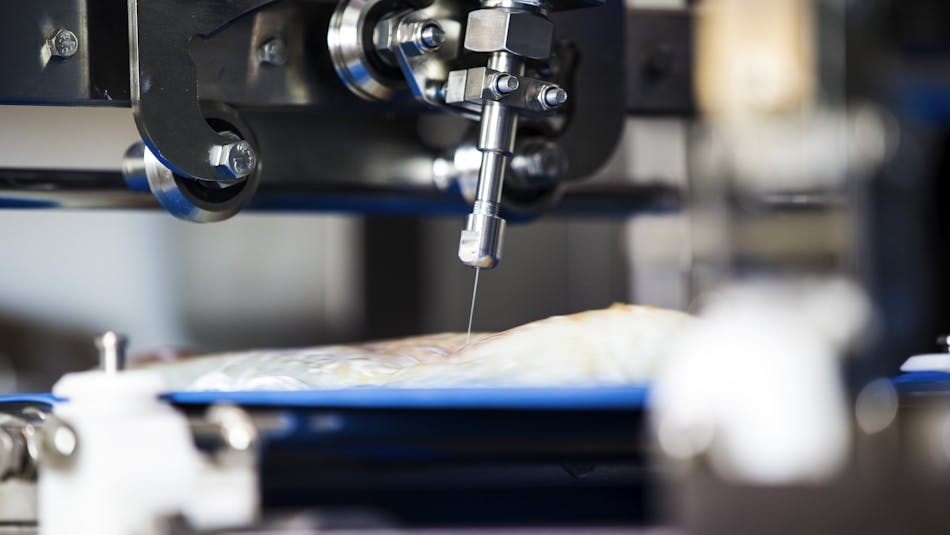 Icelandic food processing company Marel is increasing sustainability through innovation one gram at a time
For most readers, Marel is likely not a household name. This is interesting because chances are you have eaten a meal—or will soon—where some aspect of Marel's food processing equipment had a role. 
Marel's origin story is well-known throughout Iceland. The company's humble beginnings started as a University of Iceland project in the late 1970s. Rögnvaldur Ólafsson, Jón Þór Ólafsson, Pétur Jónsson, and Tómas Ríkarðsson enjoyed tinkering with early computers and electronics. They also knew that the Icelandic fishing industry was looking for more reliable, motion-compensating scales to weigh fish while at sea. Hence, the idea was born to combine state-of-the-art technology with one of Iceland's traditional and most crucial industries. Plus, these new electronic scales needed to work in some of the fiercest cold, wet, and salty environments on the planet. The M1000 scale was a hit with fishing companies, and it became one of Marel's most popular products—and is still sold today! In 1983, Marel officially formed, and its innovations spread throughout the global food processing sector, expanding beyond fish to poultry and meat. The company's roots are still in Garðabær, Iceland, but Marel's scope is global now with 7,000 people in over 30 countries. 
Across all sectors, businesses have increasingly touted their efforts toward sustainability. Food processors realized long ago that they need to adopt sustainable practices to continue operating and growing under more burdensome conditions and stringent regulations. There are countless challenges for food producers and processors, including increasing populations demanding more protein, strains on water resources, and arable lands shifting with climate change. Not to mention a recent pandemic and political shifts that have challenged our entire infrastructures. Marel is a company that understands environmental, social, and economic sustainability and prioritizes it as one of its core values. The company's long-term commitment to sustainability has led to tremendous progress in technological innovations and re-evaluating approaches that have benefited the environment, people, and the company's bottom line. 
"Marel has committed to the Science Based Targets initiative to meet the goals of the Paris Agreement. During 2021, Marel upgraded its climate commitments from aiming for carbon neutrality well before 2050 to becoming net-zero by 2040. Setting ambitious, science-based emissions reduction targets provides companies like Marel with a clearly defined path for leading the way to a zero-carbon economy, boosting innovation, and driving sustainable growth." From the 2021 Annual Report
The ethos of making the most of limited resources at Marel stems from the company's willingness to invest—and take chances on innovation. It has paid off! While many companies do not welcome deviating from tradition, Marel invests about 6% of annual revenues into the R&D of advanced and high-tech solutions to transform food processing. These innovations aim to minimize waste, environmental impact, and water use while maximizing food safety, yields, and quality. 
When you are a fish processor, every gram matters. Over a year, these grams add up to tons! Even small advances in processing and efficiency allow processors to make the most of every fish and ultimately reduce waste. Fish are a precious natural resource, and much of the world's population depends on this protein resource. For example, over 80% of a cod caught in Iceland is now used compared to a global average of 50% to 60%. Much of the increase in yields comes from technological advances from companies like Marel in scanning individual fish for maximum use, increasing automation, and better packaging to reduce waste. Remarkably, fish processors are increasing yields while not catching more fish.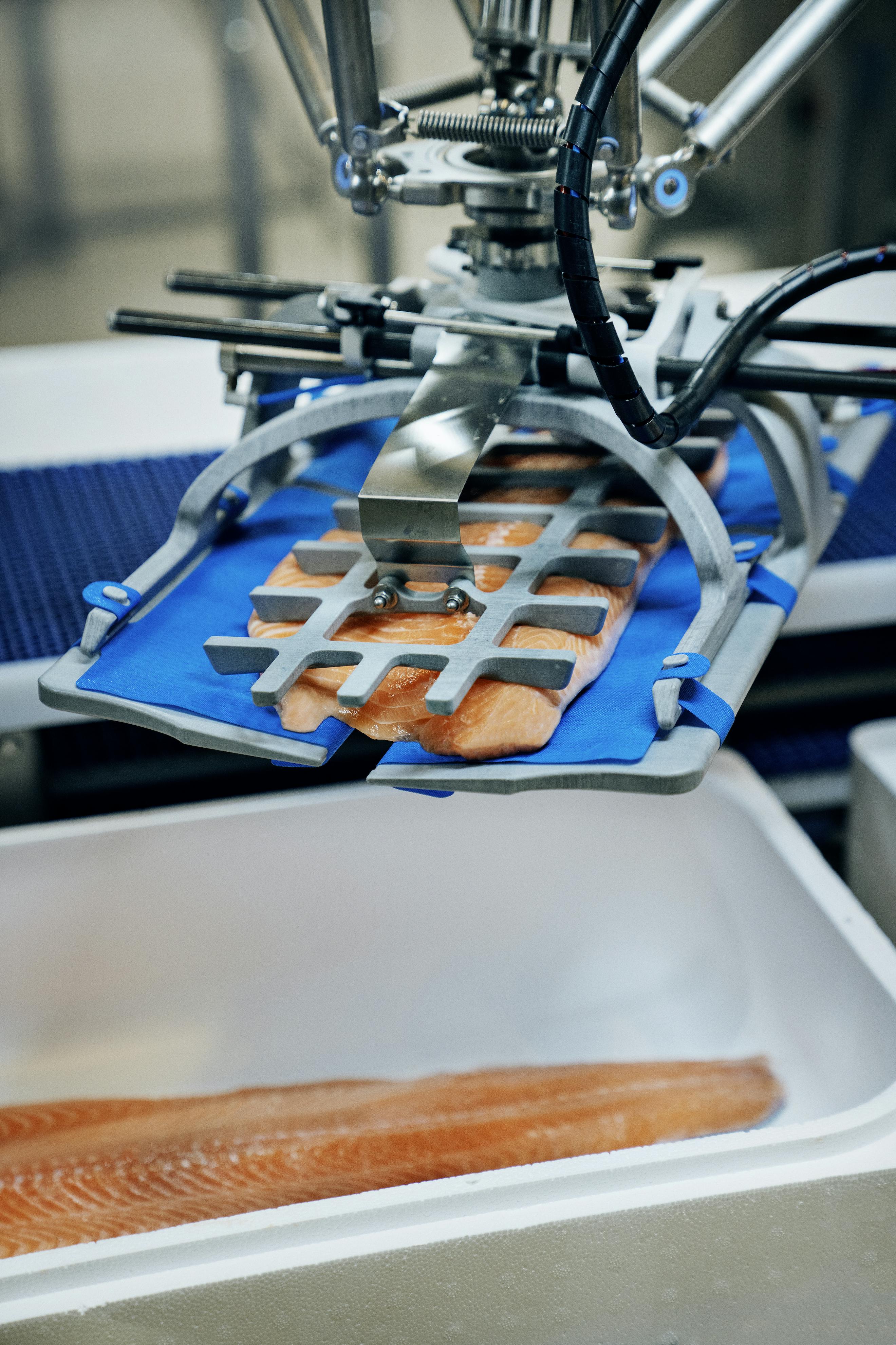 Additionally, Marel has worked closely with fishing companies to increase traceability and transparency of the industry. With data collected from the fishing vessels, Marel's equipment can create labels, typically at the retail level, with QR codes that can display when, where, and even the vessel's name that caught the fish. These efforts help increase consumer purchasing confidence in their food source and encourage responsible industry practices.
"By continuously focusing on creating new methods to improve yield and minimize waste, Marel is a key partner with its customers on their decarbonization path to net-zero and more sustainable food production. We help customers reduce the use of scarce resources such as energy and water while promoting food quality and safety, traceability, and animal wellbeing. This is becoming especially important as the price of raw materials continues to rise." Chairman and CEO statement, 2022 Annual Report
In 2018, Marel thoroughly researched the complete carbon footprint on select processing machines to better understand their impact over a lifetime of use. The study used internationally recognized methodologies and databases for existing components and parts to assess greenhouse gas emissions. It accounted for raw material extraction, manufacturing, transportation, use, maintenance, and end-of-life accounting for factors including where they were manufactured, the primary type of energy during use, and end-of-life scenarios. This deep dive was revealing and helped Marel identify where to concentrate its sustainability efforts and where the value is for its customers. The three takeaways from the assessment to reduce the carbon footprint are to minimize a product's energy consumption during use, increase the longevity and durability of a product, and minimize food processing waste. In 2020, a sustainability scorecard steered the innovation team in 96% of new project designs, facilitating sustainability throughout product development.
Perhaps it has to do with Iceland's island mentality of making the most of limited resources, but other industries can learn much from Marel's forward-thinking approach to sustainability. Not many companies invest so much of their annual revenue into innovation. While not every innovation pays off, the process of seeking new approaches leads to new technologies and unanticipated advances toward advancing sustainability.