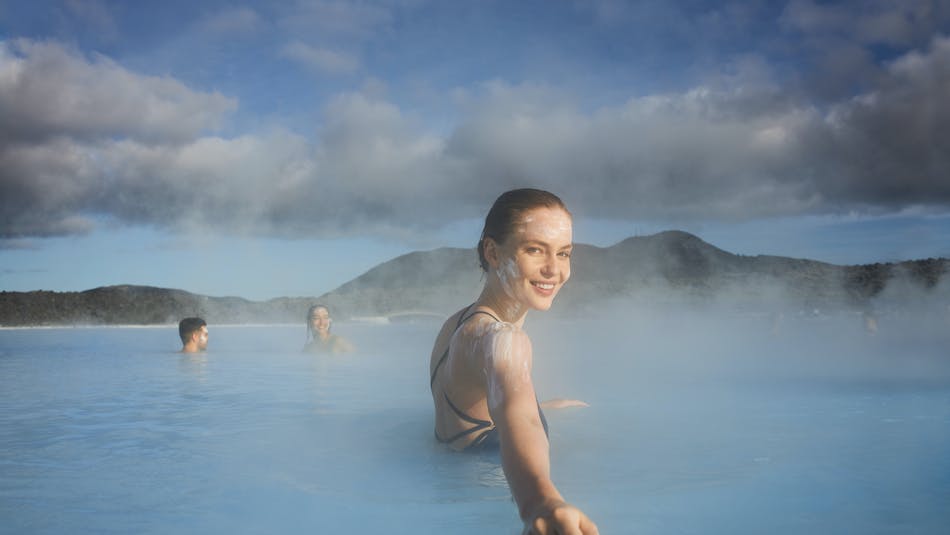 Blue Lagoon - hospitality and natural products
The Blue Lagoon is a prime example of how geothermal energy is so much more than power plants and district heating. 
The Blue Lagoon is undoubtedly one of the most iconic places in Iceland. It is recognized as one of the 25 Wonders of the World by National Geographic and is a perpetual media darling. However, less well-known is the pioneering effort to transform the Blue Lagoon into a sustainable economic growth model. Blue Lagoon provides a world-class hospitality experience while maximizing a range of local resources, creating local jobs, and minimizing the impact on the environment.  
When Grímur Sæmundsen first saw the steaming reservoir that had formed in the lava field beside the Svartsengi Geothermal Power Plant in the mid-1980s, he knew that this was something extraordinary. Long before any hotel and spa facilities took shape, Sæmundsen started Blue Lagoon Limited to research the water's bioactivity and its defining trinity of bioactive elements: silica, algae, and minerals. Multiple studies revealed that the water manifests the area's unique geology, climatology, and chemistry.   
The Blue Lagoon's waters emanate from 2,000m/6,500ft below the surface and emerge at 240°C/460°F. The mixture is 2/3 seawater and 1/3 freshwater that has filtered down through strata of basalt. The water is rich in silicic acid at depth and pressure, but the acids precipitate into the familiar chalky white particles when the water cools. While too much silica is considered a nuisance for geothermal power producers, Blue Lagoon has figured out how to turn geothermal silica into white gold, offering a wide array of silica products that promote healthy skin, nails, and hair.  
Blue Lagoon's R&D division has full-time scientists developing new and natural products with ingredients from the lagoon. Along with silica, the waters are rich in minerals and two types of algae. One alga is unique to the Blue Lagoon, and the other has only been found in Iceland and, most interestingly, inside a Japanese volcano!
One fascinating manufacturing aspect is Blue Lagoon's novel approach of transforming geothermal gas into nourishment for skincare ingredients. Like other photosynthetic organisms, the lagoon's blue-green microalgae convert light energy and CO2 into biomass and oxygen. Blue Lagoon takes the exhaust gas from the Svartsengi Geothermal Power Plant, which primarily consists of CO2, and uses the CO2 as a source to enhance algae cultivation. Algae growth in nature is inherently slow, but in a controlled CO2 environment, the algae may double and even triple their size over 24 hours! Using 'local' CO2, the Blue Lagoon can take a former byproduct and channel it into accelerating the production of one of the key ingredients in its product lineup.   
For guests looking to have a complete wellness experience, Blue Lagoon offers accommodations at Silica Hotel and the luxurious Retreat Hotel. The entire stay focuses on connecting visitors with the water and the environment while promoting relaxation and complete wellbeing. The buildings were designed to blend into the volcanic surroundings with minimal impact, taking full consideration of the delicate moss and centuries-old lava. Blue Lagoon's hotels offer private lagoons and complete amenities for wellbeing, culinary enjoyment, and skin treatments. Not only is Blue Lagoon helping people to feel their best, but it employs hundreds of people with wide-ranging skills in hospitality, health, and R&D positions and serves as a model of circular economic growth for other spa enterprises globally.    
Ultimately, Blue Lagoon Iceland has become a major attraction for foreign and domestic tourists, and its products are recognized worldwide for their quality, purity, and efficacy.