E-World 2022
Energy and water
Iceland has been harvesting renewable energy for more than a century.
100% of electricity and house-heating needs are met with renewables in Iceland.  Furthermore, icelandic companies have been developing projects where CO2 emissions are captured, turned into stone and stored underground at an industrial scale. Turning green hydrogen and CO2 from geothermal power plants or other sources into liquid methanol for fuel application, greener chemicals, and products, has also advanced as a solution available worldwide.
We are joined by 6 Icelandic companies at Hall 1 - Stand 217. Meet our Icelandic experts there and learn more.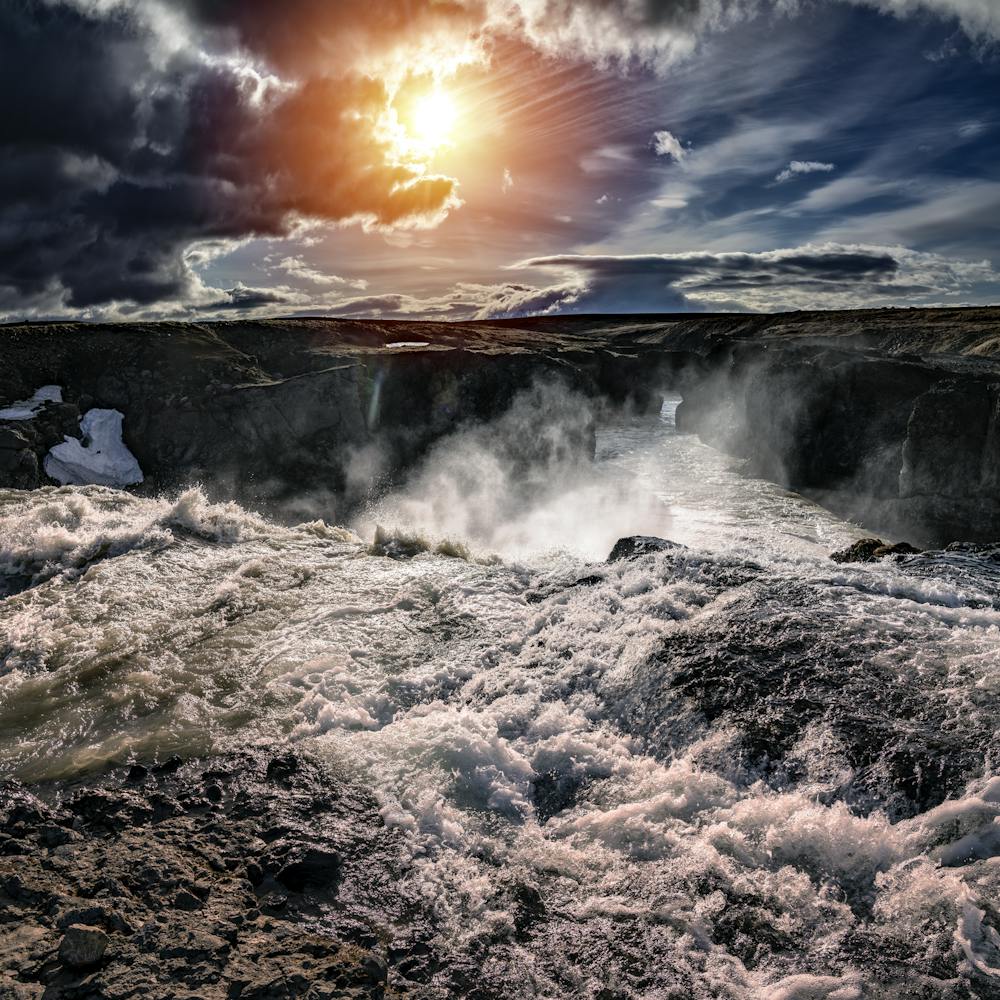 Green solutions for global challenges – towards a sustainable future
Join us at the Customer Solution Forum on Wednesday morning for informative presentations and further discussion
Green by Iceland

- A short introduction
Pure North

- The role of green energy in a circular economy
Svarmi

- A Digital Journey towards Nature Positive
EFLA Consulting Engineers

- Green Projects in the unique greenfield harbour and industrial area of Finnafjörð in Iceland: Energy and food security in a circular economy
HS Orka

- The Resource Park: Winning on waste
Sidewind

- Portable windturbine in an open container
ON Power
ON Power is a leading power company that produces electricity, mainly by harnessing geothermal energy, to more than half of the population of Iceland. The company is a world leader in the utilization of geothermal energy, and produces electricity and geothermal water for heating.
For further information please visit our website or contact Stefan Fannar Stefánsson, Stefan.Fannar.Stefansson@on.is
Pure North
Pure North is an Icelandic environmental technology company. We operate Icelands' only plastic recycling plant in South of Iceland which is powered solely by geothermal steam and electricity from hydropower. We currently receive and recycle most of the agricultural film plastic used in Iceland and are continuously expanding our operations to be able to recycle other plastic types. We are proud to say that our process has been shown to have as much as 80% lower carbon footprint pr. ton of plastic recycled than EU average recycling processes. Furthermore, by recycling 1 ton of plastic and bringing it to the market we prevent emissions of 1,5 tons of CO2 equivalents that would have been emitted from production of virgin material.
For further information please visit our website or contact our Chief Advisor, Karl Edvaldsson, karl@purenorth.is
SVARMI
Svarmi helps organizations to create in-depth transparency on nature interaction, providing detailed information on the natural assets within their Area of Impact. We help mitigate risks and manage stakeholder dialogue by building a common source of truth. With Svarmi's scalable and continuously enhanced technology and data platform, companies can acquire, manage, and build decisions with very large datasets globally and create unparalleled insights for business decisions and risk management on an ongoing basis.
For further information please visit our website or contact our CEO, Kolbeinn Ísak Hilmarsson, kolbeinn@svarmi.com
EFLA
EFLA is a general engineering and consulting company based in Iceland with international activities and consultancy around the globe.
In recent years, EFLA has participated in several initiatives aimed at promoting greener, more efficient energy solutions. Experts within the company are at the forefront of development in the energy transition and implementing technology, paving the way for green energy solutions as well as carbon capture and disposal. 
EFLA has participated equally in domestic and international collaborative projects, closely monitoring global developments. EFLA has developed a knowledge network that customers and the community will benefit from. In this important journey, the company's experts in green energy solutions intend to continue to contribute their part to battling global warming.
EFLA prides itself on having highly qualified professionals with vast knowledge and experience in a wide range of fields. The organization places a high emphasis on environmental and social responsibilities in all aspects of its operations and continuously strives to fulfil them.
Our mission is to enable and support the success of our customers and society as a whole by providing progressive and value-driven solutions.
For further information please visit our website or contact Hafsteinn Helgason, Business Development, Hafsteinn.helgason@efla.is
Sidewind
SideWind aims to demonstrate the potential of wind energy in lowering emission from the container shipping industry. SideWind brings a new concept based on a plug&play, recyclable and cost-effective vertical axis wind turbine (VAWT), horizontally arranged, inside a wall-free container to harness the wind energy flowing over cargo ships. Vessel's owners do not need to redesign neither carry out infrastructural changes to implement Sidewind. The design of Sidewind turbines allows to manage them as another container, being easily loaded/unloaded. Additionally, our goal is to fulfill the principles of circular economy and use second-hand containers and produce turbines from recycled plastic.
 For further information please visit our website or contact Óskar Svavarsson CEO & Co-Founder of SideWind, oskar@sidewind.is or María Kristín Þrastardóttir CFO & Co-Founder of SideWind, maria@sidewind.is
HS Orka
HS Orka supplies green electricity from renewable sources, geothermal and hydro. The company also offers clean CO2, steam, ground sea, hot clean sea, silica and other byproducts of its geothermal operations.
HS Orka operates a Resource Park on the southwest Reykjanes peninsula of Iceland in the middle between Europe and the US, with direct access to sea and fresh sea water is the best situated geothermal park in the country, close to Reykjavík and easily accessible internationally with efficient logistics to mainland Europe and North America.
For further information please visit our website or contact Jóhann Snorri Sigurbergsson Business Development Manager, johann@hsorka.is
Invest in Iceland
As a part of Business Iceland, Invest in Iceland works with Green by Iceland to share information on the green business environment, incentives and opportunities.
For further information please visit our website or contact Arnar Gudmundsson, Head of Foreign Direct Investment, Business Iceland, arnar@invest.is